WILLIE NELSON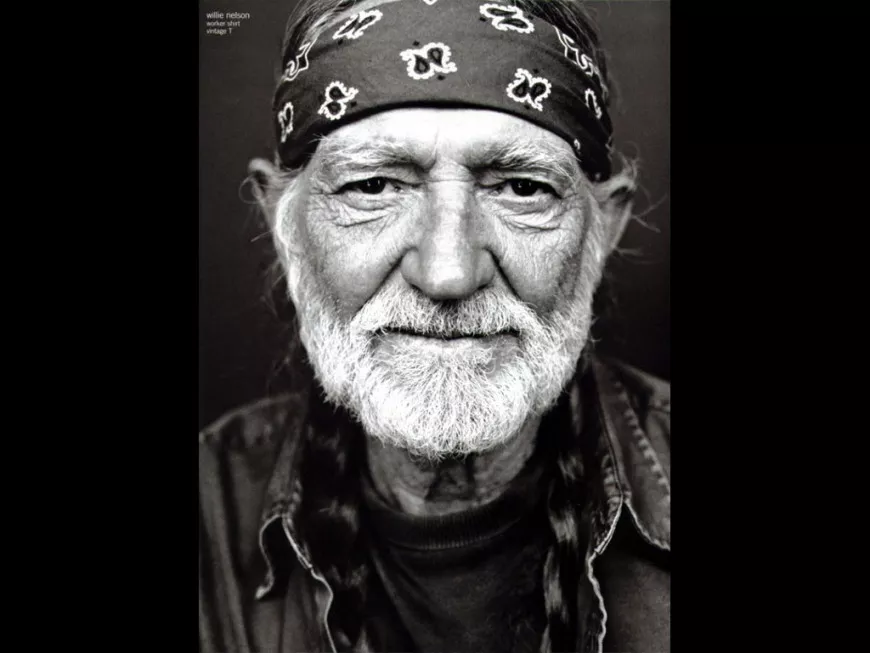 94x50_willie-nelson-160.jpg
willie nelson
Willie Hugh Nelson (né le 30 avril 1933) est un acteur, producteur, chanteur et guitariste de musique country américain. Son nom est plus spécialement attaché au style « Outlaw Country ».
Avec Waylon Jennings, Nelson connaît le succès au début des années 1970 grâce à un genre country nouveau ne répondant plus aux critères du « Nashville sound ». Nelson affirme son choix en sortant en 1976 un album nommé Wanted: The Outlaws! (avec Jessi Colter et Tompall Glaser), premier album de country music à obtenir un disque de platine.
Il est l'interprète, entre autres, de la chanson On the Road Again. On le retrouve également au côté de Toby Keith, dans le titre Beer for my Horses. Il a aussi chanté We are the World de USA for Africa. En 1993, il est introduit au Country Music Hall of Fame. On le trouve également dans Shérif, fais-moi peur. Willie Nelson est également un grand défenseur de la cause cannabique (son album Countryman au style reggae en affiche d'ailleurs une feuille sur la pochette) et son arrestation en 2006 pour possession de près de 6 onces (170 grammes) de marijuana[1] a récemment relancé l'attention des médias sur lui.
Discographie
The Party's Over (1967) chez RCA
Texas In My Soul (1968)
Good Times (1968)
My Own Peculiar Way (1969)
Both Sides Now (1970)
Laying My Burdens Down (1970)
Columbus Stockade (1970)
Yesterday's Wine (1971)
Willie Nelson And Family (1971)
The Willie Way (1972)
The Words Don't Fit The Picture (1972)
Shotgun Willie (1973) chez Atlantic
Phases And Stages (1974)
Red Headed Stranger (1975) chez Columbia
The Sound In Your Mind (1976)
The Troublemaker (1976)
To Lefty From Willie (1977)
Before His Time (1977)
Stardust (1978)
Sings Kris Kristofferson (1979)
San Antonio Rose (1980)
One For The Road (1980)
Somewhere Over The Rainbow (1981)
Always On My Mind (1982)
Poncho & Lefty (1982)
Tougher Than Leather (1983)
Without A Song (1983)
Take It To The Limit (1983)
Angel Eyes (1984)
City Of New Orleans (1984)
Music From Songwriter (1984)
Me & Paul (1985)
Half Nelson (1985)
Highwayman (1985)
Partners (1986)
Island In The Sea (1987)
What A Wonderful (1988)
A Horse Called Music (1989)
Born For Trouble (1990)
Who'll Buy My Memories/The IRS Tapes (1992)
Across The Borderline (1993)
Spirit (1996) chez Island
Teatro (1998)
Milk Cow Blues (2000)
Rainbow Connection (2001)
The Great Divide (2002)
Stars And Guitars (2002)
Alive and Kickin' (2003)
Outlaws and Angels (2004)
It Always Will Be (2004)
Countryman (2005)
You Don't Know Me: The Songs of Cindy Walker (2006)
Songbird (avec les Cardinals) (2006)

---

Découvrez la dernière sélection des nouveautés jazz & soul qui est aussi à retrouver sur les ondes de Jazz Radio et notamment dans l'émission Zen Attitude présentée par Claude Zennaro.